Directory Search - People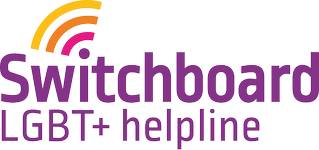 Switchboard (LGBT+ helpline)
Switchboard provides a one-stop listening service for LGBT+ people on the phone, by email and through Instant Messaging.  They provide information, support and referral service for lesbians, gay men, bisexual and transsexual people or anyone questioning their sexuality.

Here are some of the things people might Switchboard for:
Support for a man who has been a victim of homophobic abuse, but has previously had a bad experience going to the police.
Contact details for an LGBT-friendly therapist.
Support for a lesbian teenager thrown out of her home by her parents, and who needs somewhere to stay.
Information about a support group for a man who wants to wear women's clothes for the first time in public.
Information on how to get to local gay pubs for someone with mobility issues.
Times and places for a local bisexual social group.
Listening to some of the concerns a mother has about her child who is trans*
Every call is unique, and Switchboard prides itself on responding to the changing needs of our communities by providing a service that's continually evolving and relevant.
They are Confidential, Welcoming, Non-Judgemental, and Supportive.