Message in a bottle scheme
Message in a Bottle is a scheme for residents who are aged 60 or older and live alone, or have an illness or disability.
The scheme, which is now run by Lions Clubs British Isles, enables them to keep their personal and medical details in a recognisable plastic bottle in the fridge, where they can easily be found in the event of an emergency.
Two green cross stickers are provided so that emergency services will know that you are signed up to the scheme - one for the inside of your front door and one for your fridge.
How do I get one?
You should be able to get one from your local pharmacy or your GP surgery. 
Or contact  Lions Clubs British Isles for more information and they can send a bottle through the post.
Email: enquiries@lionsclubs.co
Telephone: 0121 441 4544
Is there a charge?
The Message in a Bottle scheme is free.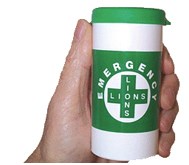 Last updated: 07/07/2021