Day centres and local hubs regularly hold activities and events where residents can meet people, get free information and advice, and stay active.
Westminster
In-Deep Community Task Force
In-Deep Community Task Force offer friendship and support with a range of activities and services to people living in Westminster. 
In-Deep CTF puts regular breakfasts and dinners in Westminster. The also run:
Community choir
Monthly massage, manicure and pedicure services are run by trained professionals.
Annual Christmas dinner and Christmas hamper scheme.
Home visiting scheme.
Age UK Westminster
Age UK Westminster  promotes the well-being of older people in the London borough of Westminster. This local service provides:
Winter checks - a telephone service for vulnerable older clients over the winter months
Information and advice
Befriending services
Open Age Westminster - community hubs and more
Open Age has been championing active lives for older people for over 20 years. Services are available to any one aged 50 or older.
The charity provides a wide range of physical, creative and mentally stimulating activities to enable older people to develop new skills, fulfil their potential, and encourage social interaction, thus helping reduce loneliness, isolation and depression.
The organisation operates across a number of sites including:   
The Penfold Street hub
The Penfold Community Hub (run by the Notting Hill Housing Group) is a hub in Westminster where anyone over the age of 50 can drop in and take part in over 100 weekly activities, find out about other services, and get the information they need to help them to stay independent and live a healthy and active life. 
The Pullen Day Centre
The Pullen Day Centre offers day care for 25 physically frail older people a day on Mondays, Tuesdays, Wednesdays and Fridays.
On Thursdays they offer support for 20 people with dementia.
Other opportunities in Westminster
Take a look at our leaflet with details of a wide range of day centres, drop-in centres and hubs in Westminster.
Kensington and Chelsea
Open Age has active sites that operate across Kensington and Chelsea. with active branches including: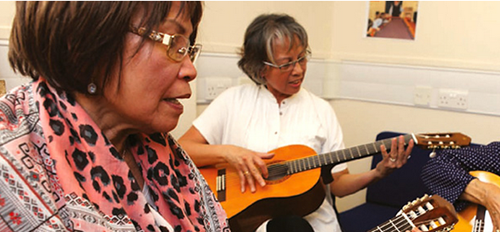 Quest Day Centre & Kensington Day Centre
The Quest offers a varied programme of activities for older people with dementia or mental health problems, all with the underlying aim of maintaining or restoring independent living skills. Typical services on offer include the popular Lunch Club, visits by a community psychiatric nurse trips to the theatre/cinema, day trips and annual holidays.
Kensington Day Centre is open to residents living in North Kensington. Take a look at their leaflet to find out more.
Other opportunities in Kensington and Chelsea
You can take a look at our list of day centres and drop-in centres in Kensington and Chelsea